I decided to make a thread and dedicate it to my cosplay project for the summer in hopes I won't procrastinate so much. It's just going to be notes for me for now, and I suppose to show how I'm putting together this costume. Someone unfamiliar with the cosplay process can see some of the stuff people go through with cosplay.
First, reference pictures: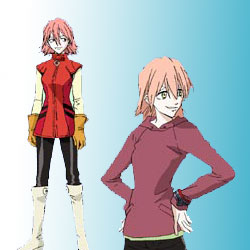 I'm going to make sure I have everything except the Vespa (though if even given the option and if I needed a form of transportation, i would so buy one). I got my tax return yesterday so I sort of... splurged on the things I've been wanting with this costume for a long time. Usually when I start a costume I try and get all the accessories and things I'm not making myself first so I'm not waiting on them to come in the mail last minute.
BASS: The most important bit, the Rickenbacker bass, is currently in the process of being made (slowly) by myself and my dad (mostly my dad XD) out of wood and the remains of an old cheap bass I never learned how to play. When we progress more into that part of the costume I'll post lots of pictures and updates on how we're going about making it. Buying the actual Rickenbacker is not an option seeing as Haruko seems to like some of the most expensive guitars out there.
WIG: Another very important part of the costume, as with any cosplay I do, is the wig. I'm a bit anal retendant about finding what I consider the "perfect" wig for a costume, and with Haruko she doesn't look the typical bubble gum pink, it's a bit more rusty, darker at times, so I decided to go with dark pink wig, a shade that's pretty hard I've found to find in the right style, but I think I found something
that can work with this.
I just feel a bit guilty that I'm going to be cutting up such a pretty, wig, which will probably get worse if I find I actually like Lightning from FF13 when I get around to playing it. Anyway, I had to go with it because I really like the shade (a few Haruko cosplayers posted their pics with that shade from that seller and it's what sold me) and it's Kanekalon (something I insist with my cosplay wigs) and it's thick and long enough for me to style.
Boots: Shoes for cosplay can be a pain in the ass if you're a self critical perfectionist like me. I unfortunately have a worse time than most about it because I'm a very tall girl, which means I have big feet, and unfortunately most women's shoes rarely go above size 9, or 10. I'm between a 10 and a 10.5 so finding the perfect boots without paying a ton of cash is always a challenge, but I hope I found them with these:
http://www.amiclubwear.com/shoes-boots- ... itesu.html
http://www.amiclubwear.com/shoes-boots- ... itepu.html
Yes, I bought two pairs of boots. For the prices they were asking for, it was a steal (really, you NEVER find boots this cheap). I bought two as well because they only had them in size 10, nothing larger. I'm hoping one or the other will be comfortable enough for me to use.
THESE
would have been perfect for the costume (just spray paint them white), but unfortunately the sizes only went up to 9, which I have no chance in hell getting my foot into. Once I get the boots, and if they fit I'll alter them as needed, like add that little round circle thing she has on them.
Next we have the simpler things for this costume:
Scarf
Gloves
Helmet/goggles
I think I may need to redo the stripe with spray paint when I get it though to make it one giant, solid stripe.
So now that I have all that out of the way, this leaves me with just three things left to get: The red top/dress, her bracelet, and her pants. The pants I'm just going to keep my eye open for at stores and thrift shops, where as her bracelet I'm going to make (haven't figured out how I'm going to go about with that). The top I'm going to make as well, so starting next week I'll be looking at vinyl/pleather looking materials for it.
Depending on how much money I have when the convention comes around, I'll decide if I want to put down the money for some yellow contacts.