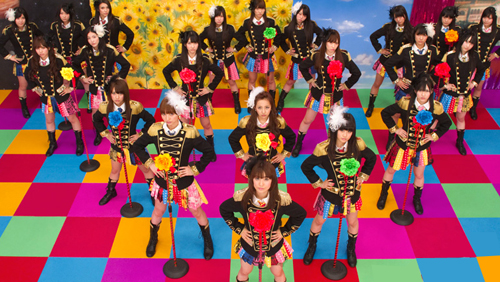 Anyone interested?
I first heard of
AKB48
around '06 or '07 when ANN reported about the group after the release of their first major-label single, "Aitakatta." Didn't pay much attention at the time. I was
such
an
~~intellectual~~
and didn't like idols or idol music. Somehow I accidentally rediscovered them around 2010 after they released their most popular song "Heavy Rotation." I found a giant image online of all the girls' profile photos – there were less girls at the time – and instantly gravitated to
Mayu Watanabe
. (If you look at her 2010 photo at the bottom of the page... so friggin' cute.)
The first AKB48 song I actually heard was "Iiwake Maybe" – which to this day is still my favorite song of theirs.
[youtube]http://www.youtube.com/watch?v=qJ-Drv9tVjI[/youtube]
I really recommend, even if you're remotely interested, checking out the more of their popular music videos. They've grown a lot, especially in terms of range of genre.
Koisuru Fortune Cookie
is a song released about this time last year that was hugely popular in Japan and even became its own meme.
Visit their
YouTube channel
for official videos.
This site
is also a good general resource. There are more groups within the larger AKBG, including SKE48 (in Nagoya), NMB48 (in Osaka), and HKT48 (in Fukuoka), as well as some overseas groups and rival group Nogizaka46.
I know it seems overwhelming, but it's really a lot of fun. Maybe time-consuming if you're really into it, but so is anime. I dunno, I just really enjoy Japanese idol culture!
I'd love to discuss it more here (because no one IRL knows wtf is up)!